Day 31 through Day 41: Clinton,MO – Osawatomie,KS – Emporia,KS – Hillsboro,KS – McPherson,KS – Larned,KS – Garden City, KS – Leoti,KS – Eads,CO – Ordway,CO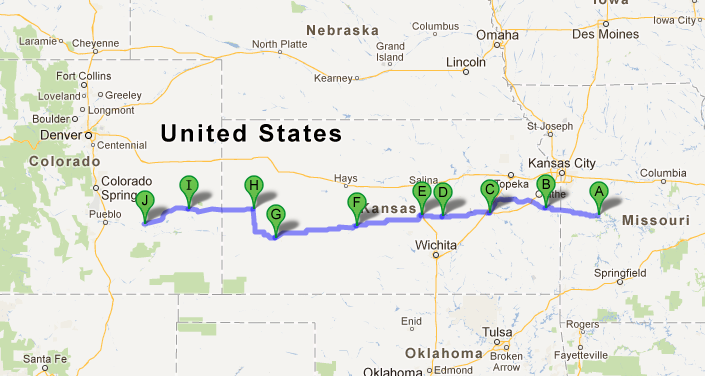 Kansas.
What can I say….
I've never really been in Kansas past the University of Kansas in Lawrence, which is in the eastern part.  And I found that Kansas doesn't look as flat and desolate cliche-Kansas until you near the central parts of the state.
The flatlands of Kansas are really refreshing when on a bicycle. No worries about hills. You barely break a sweat in this state, besides when there are some strong headwinds or crosswinds.  Then, the resistance feels as if you have a parachute attached to your back or side.  Needless to say a tailwind is the BEST.
Town after town in Kansas was completely identical.  You could usually count on a grain elevator in the center of it and usually a water tower.
Beaucoup cattle. Beaucoup smell.
This sounds incredibly boring. However, I will say that some of the most amazing views I've seen on this trip where in Kansas.  There were areas where the land was SO flat in all directions, it was surreal that a Lake Michigan or a Gulf of Mexico wasn't nearby. You'd swear that a beach was nearby. That's the only time I've ever seen land so flat.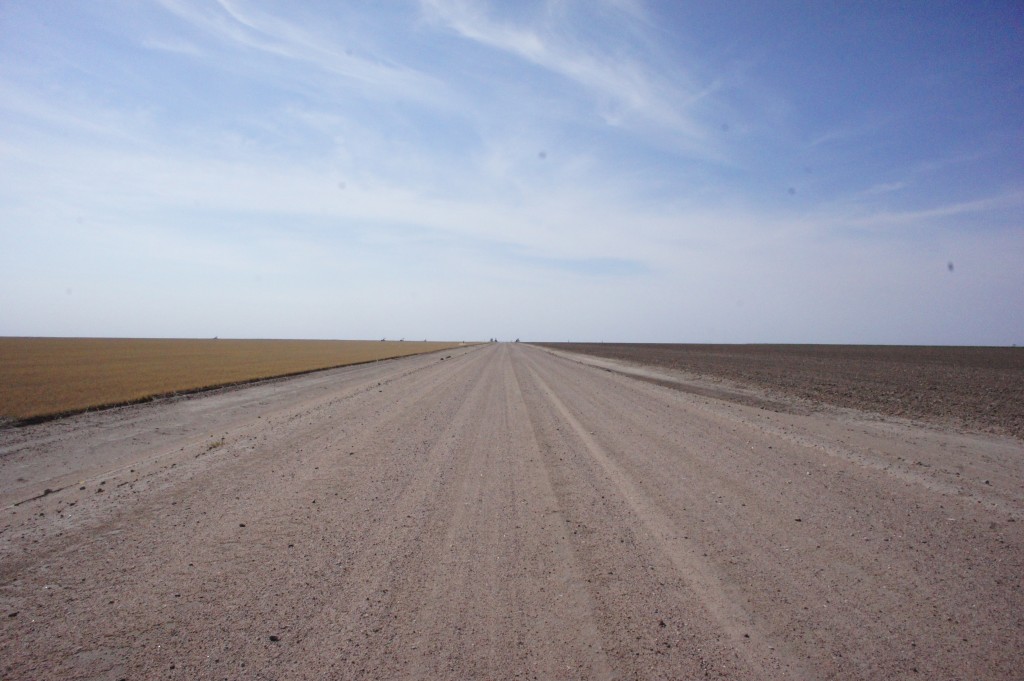 No picture can really do the sight justice, but this is my view from a dirt road shortcut with what seemed to be grain growing on the left and raw land on the right where the crop was already harvested.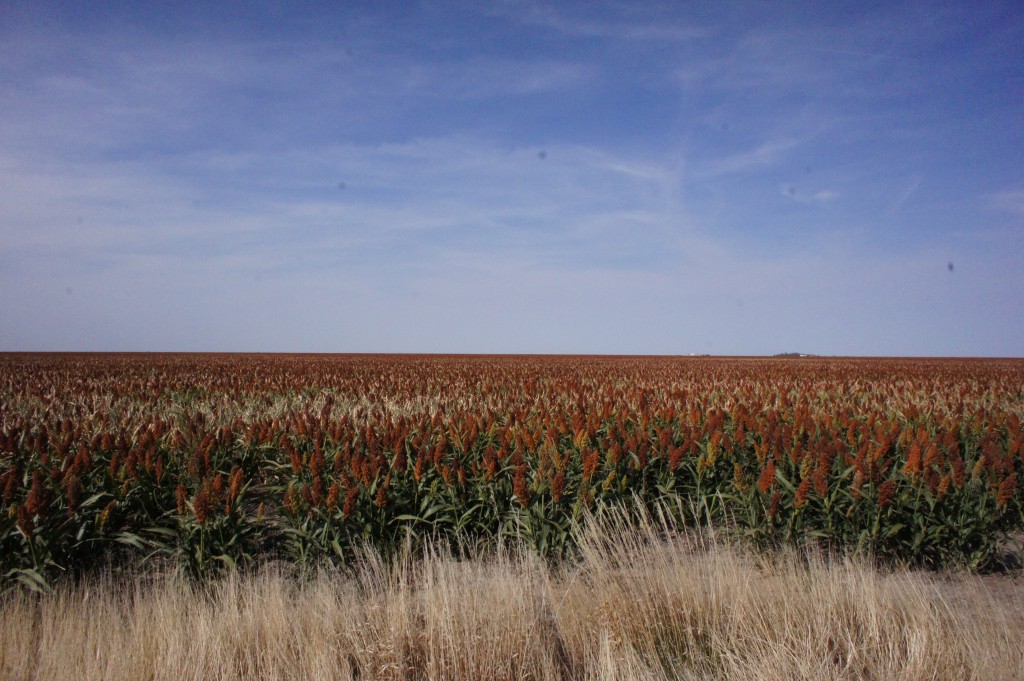 I have no idea what this was growing to my right as I got further down the road. But I thought it was amazing to look at. There are so many times that I could just stop and sit for hours while admiring the sights. But then, I wouldn't get anywhere.  Still, I think this is screensaver worthy (do people still use those?).
I'm not the only cyclists on these roads.
On the way to Ordway, Colorado I happened to be riding and in my side-view mirror I noticed a small red-dot in the far distance that was approaching me fairly fast. Initially I thought it was just another car…
Minutes later.
I see.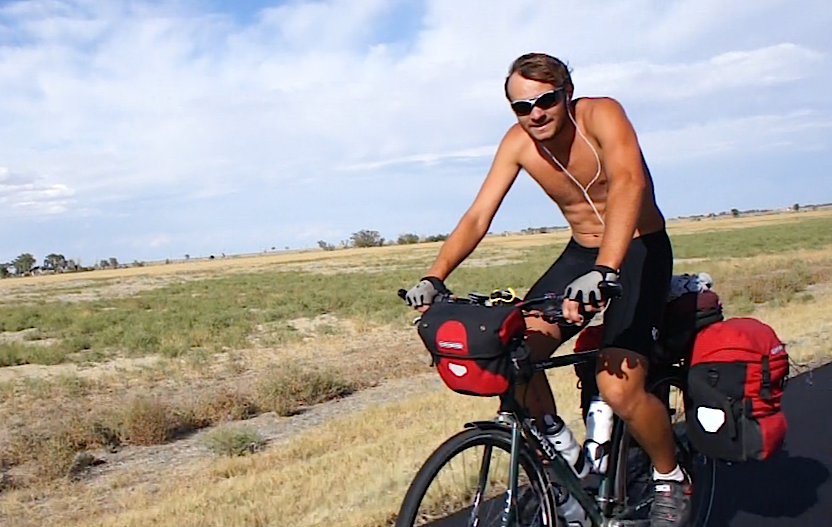 It was a trip to see this guy.
Especially since he was hauling so much ass, he literally had to slow-down for us to chat and ride.
Turns out, his name is Jan and he was with his friend Zack and they had started their trip in upstate New York and where on their way to San Francisco.  So, Zack and Jan started out together and they met up with a guy named James in Illinois who was riding from Nashville to Washington state.
I met up with all three of these guys and they turned out to be pretty cool people.  We all ended up riding together into Ordway, Colorado as we all planned on stopping there for the night.
Jan actually had a contact to a lady who had a hostel, of sorts, which was a spare trailer of many on her property that she opened up to people from time to time.  It was actually really cool of her to open it up for us. I wasn't expecting much, but the trailer had a bunk-bed, a stove, and was carpeted.
It was pretty awesome. And FREE.
Once Jan, Zach, James and I got to the hostel, we were met by yet another cyclist, Matt.  Who was traveling from Washington state to Virginia.  So it was pretty cool that all 5 of us where in this trailer just hanging out, telling stories, and what-not.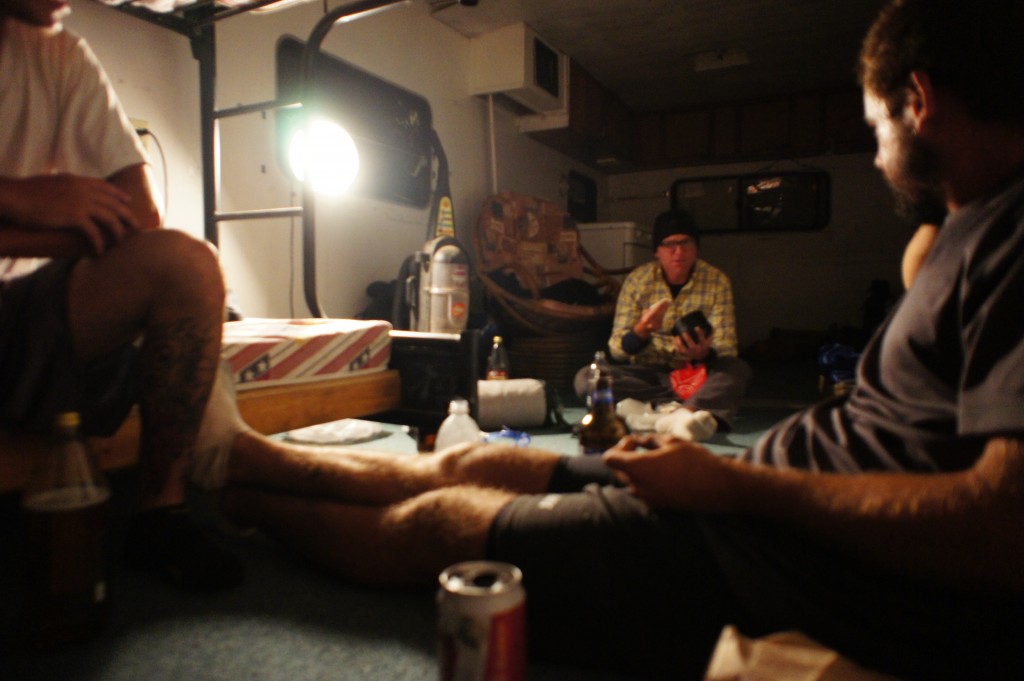 I found it hilarious that Matt seemed to carry the least luggage out of all of us on his bike, yet somehow had enough room to pack a 4 course meal, which he's eating in this pic.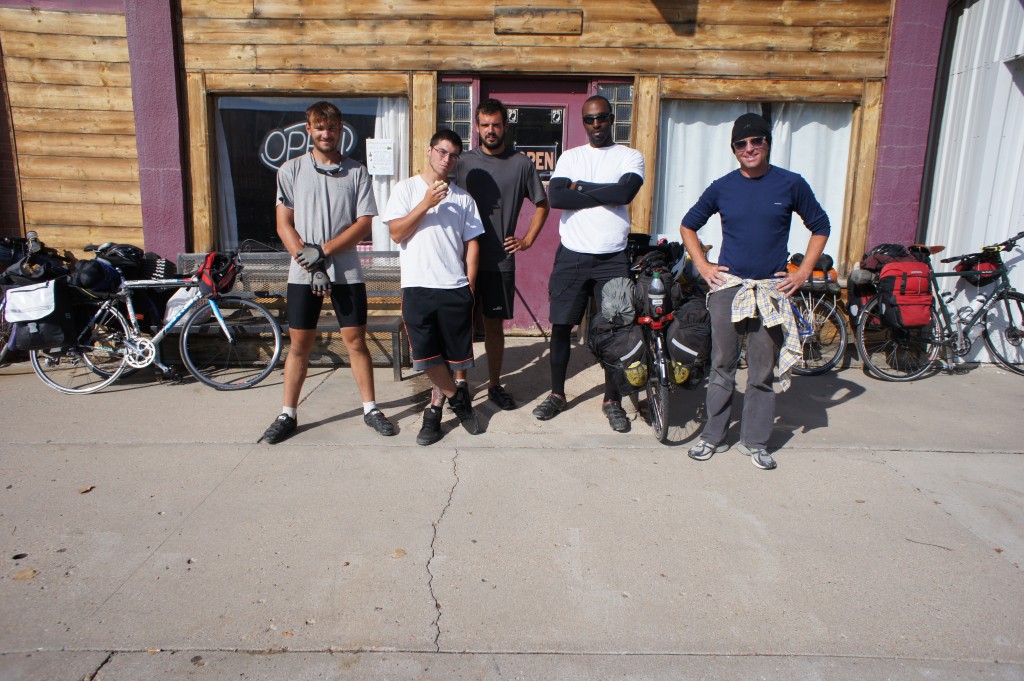 From left to right, Jan, James, Zack, Me, Matt.
We all ate breakfast together the next morning and then split up to go our separate ways.
Matt, was going east into Kansas.
Jan and Zack were headed south into New Mexico.
James and I were both headed to Pueblo, Colorado for the night, so we headed out together.
Adventure Cycling Across America – Diary Entry #8