Day 19 through Day 22: Bloomington, IN – Sumner, IL – Sedalia, IL – Saint Louis, MO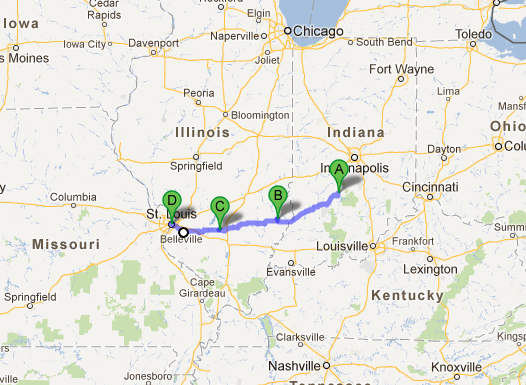 Once I got out of Indiana and into Illinois, my riding was pretty smooth. Smooth as in flat as can be.  There's nothing like looking straight ahead and being able to see two miles or so into the distance. Riding through Southern Illinois was quite refreshing because of that and also the fact that since I'm originally from Saint Louis, MO the areas became more and more familiar as I went west.
Now that I'm working my way through the mid-west, and am a few weeks into this trip, you may be wondering…
"What are you eating and how much?"
Let me first say, I've had a few of my Facebook and Instagram friends point out to me that I haven't been eating the most heart healthy foods. So I must address this.
Well here's the deal.
I indeed haven't been making the most healthy food choices. No lie. I've been going after the pizza, the burgers, the triple stacks of pancakes. However, my BodyMedia device, that I wear daily around my tricep, tells me I burn between 4,000 to 5,000 calories on a typical 70 mile day.
So I eat whatever I want and as much as I want. To answer the question.
I know I'm promoting heart-healthiness, but you must hear-me-out…
The quantities I'd have to eat with my typical clean-diet versus my cross-country bicycle-ride Mike Phelps eat-whatever-diet would be ridiculous.
Just to fuel the calories burned on the bike, not considering those burned off the bike and while sleeping, I would need around 5,000 calories daily which would do the trick.  The typical Subway footlong is 1,000 calories, so imagine eating 2 footlongs for lunch and 2 footlongs for dinner with one for breakfast.  Not to say it's not possible, but this is just to give you an idea of food quantities needed for fuel.
Now imagine how many apples, bananas, caesar salads, steamed brocoli, etc. it would take for 5K cals…
I would literally have to eat 8 meals per day or more.  Ain't nobody got time for that.
Subway is a pretty healthy option for food.  However, the problem is Subway and simular healthy options aren't always available even if I wanted to opt for them.  There have been times that I HATED the fact that my only choice was McDonalds.  But greasy-food better than no-food.
Nah mean.
During normal life…when I'm not on a bicycle all-day, I eat fairly clean minus a weekly cheat-day or two.
But with the amount of riding I've been doing, I'm eating whatever I want. It's actually one of the few rewards I have to look forward to after all of the work.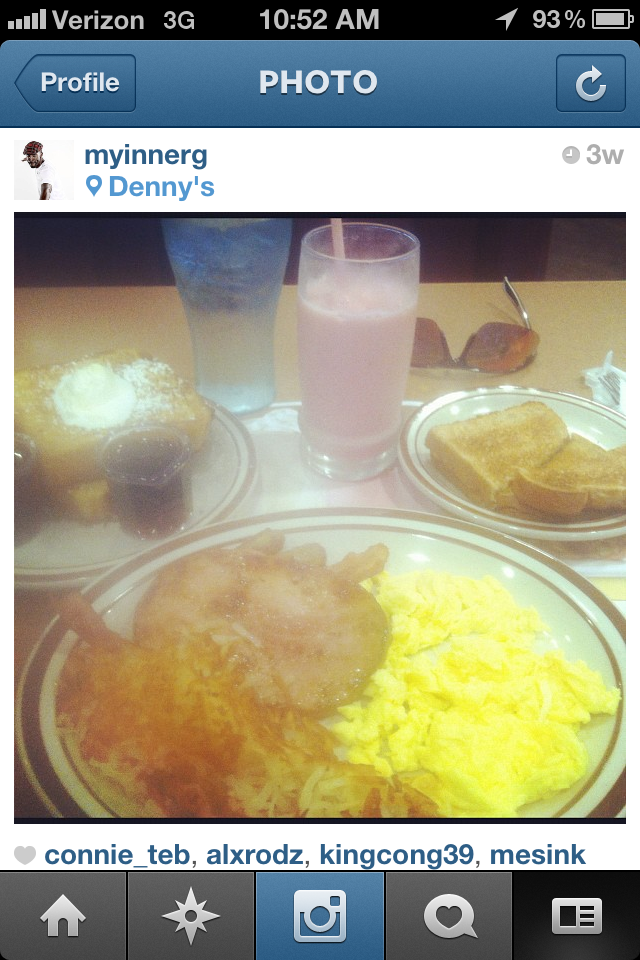 When I go to Denny's I get the largest breakfast combo they have on the menu. And it's actually hard-work to finish it all, but I get it done.
Adventure Cycling Across America – Diary Entry #6