Day 7 through Day 12:
Mcconellsburg, PA – Somerset, PA – West Mifflin, PA – Robinson Township, PA – New Athens, OH – Saint Clairsville, OH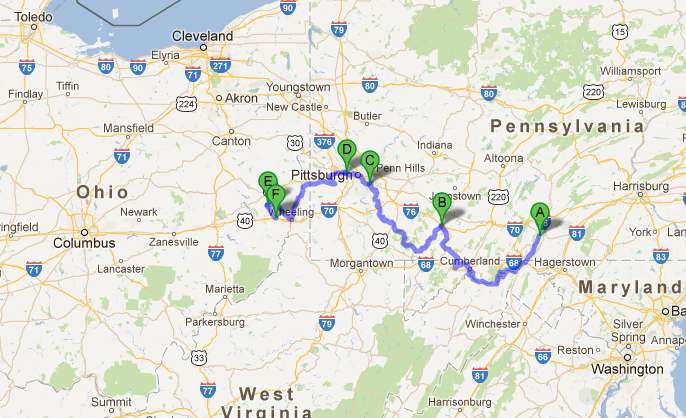 I sit here from the Red Roof Inn in Saint Clairsville, Ohio ready to head out for the morning.  I strolled in here at 8am yesterday morning after a very very rough night.
Why was it rough? I'll tell you…
On Day 11, I rode from Robinson Township, PA to New Athens, OH. This was a good day, I was feeling good and got 80 miles in after riding a trail thru the west end of Pennsylvania and the northern tip of West Virginia. Tackled quite a few hills once I got off the trail and into Ohio. But felt pretty good none the less.
Once I got to New Athens, OH, it was about 8:30pm after I figured out that I would need to go to Saint Clairsville for the night to find a place to stay.  This was because there was absolutely nothing in New Athens.  Not a hotel, motel, hostel, restaurant, I don't think I even saw a gas station. NOTHING.
So, I try not to ride at night, but I figured I had to get this done.  Saint Clairsville was only 9 miles away. And even though I was certain that was 9 miles of hills, I was going to do it.
I head away from New Athens and as soon as I get about a quarter mile from the city, I realize a few things:
I really don't have the energy to do these hills, as I was presented with one right away.
I need to quit acting like there aren't bears and bobcats in these parts that I'd have no chance against at night.
If the headlight battery on my helmet died, I wouldn't be able to see my hand in front of my face. It was just about that dark.
After having these thoughts, I turn around and think about a plan-B. However, bad that was going to be. At this point it was around 9:30pm and I was just plain stuck.
I rode past a post office and saw that it was situated on the main road, was decently lit, and it looked like the best option to call it a night there.  I posted-up by the entrance and camped out until daylight.
These were the longest hours EVER.
For dinner, I ate my emergency energy food that I swiped from the Holiday Inn Express breakfast bar back in Pittsburgh.  Two bagels and a couple of slices of raisin bread.  Afterwards, I spent my time looking at the stars. You can see far more in rural areas when away from smog and street lighting.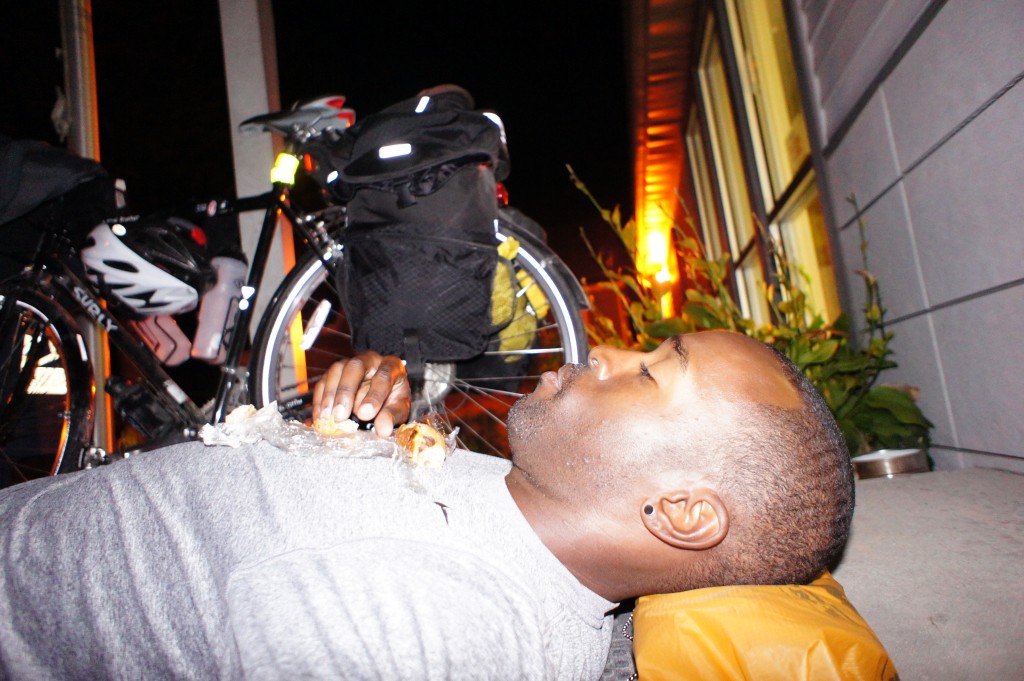 Then, when that got old I tried to get some sleep.
Emphasis on the word, "tried".
My sleep went a little something like this:
10:00pm – sleep
10:30pm – where in the hell did that dog come from? is it on a leash? no! ok, i think it's a cool dog. it's going to keep doing it's thing over there. it see's me and didn't come over, so it's cool.
11:00pm – sleep
11:15pm – what was that crawling on my leg? hope i don't get bit by something venomous.
12:00am – sleep
12:02am – what is that dog barking at?
1:00am – sleep
1:30am – i have 6% battery on my iphone. damn
2:00am – how is the sun not up yet? damn this is taking long
2:30am – sleep
2:50am – why did it just get cold suddenly? i thought these were the dog-days of summer. what happened to that?
3:30am – i need to layer-up and put on every spare piece of clothing i have. i think these shorts will work as a skull cap. yep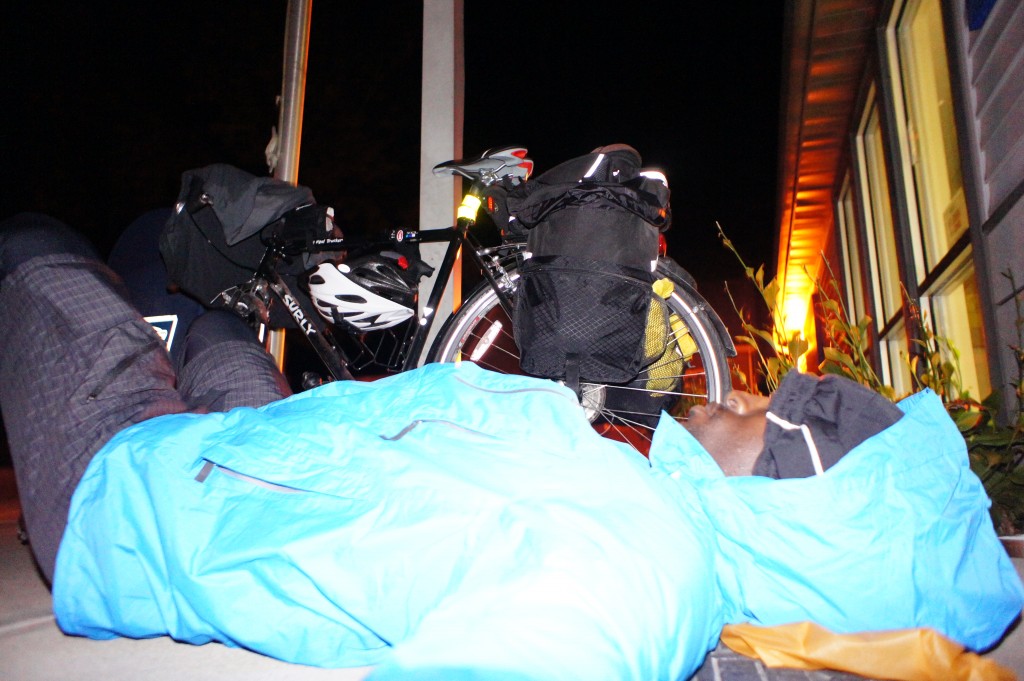 4:00am – sleep
5:00am – damn right. the sun should be up any moment now so I can leave. let me google the sunrise time for New Athens, Ohio….6:48am?!?! sunbitch! that's a long time from now.
6:00am – this concrete is really starting to feel like concrete. I'm out.
When I headed out, that morning I was reassured that I made the right choice the night before.  Because these hills were RIDICULOUS.  They were so steep that even on the downsides I had to drag my brakes to keep from going too fast and that's saying a lot because I'm a speed-demon that loves the downhills.  They were THAT steep. Up-side and Down-side.  There was no-way I was making those the night before in pitch-blackness.
I got into Saint Clairsville, OH at 8am and passed out as soon as I got an early check-in.  It was almost as if I never slept the night before. That's how my body felt.
Adventure Cycling Across America – Diary Entry #4