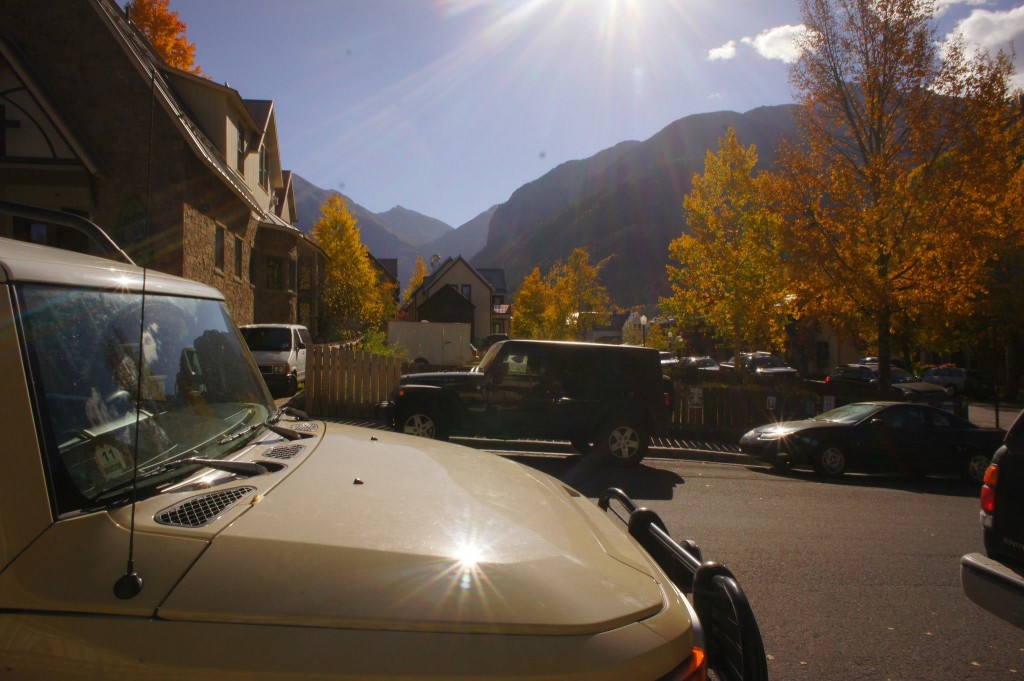 After leaving Montrose, CO I was starting to get used to guaging my daily distances by how many mountain ranges where ahead of me.  So leaving Montrose, I knew I would be set stay in Telluride, CO or Mountain Village, CO.
I ended up staying in Telluride for the simple fact that was easier to get to at the end of a long day.  They are neighboring cities, and I could visibly see that Mountain Village was situated at the peak of a mountain to the right of the road I was on.
By the time I found a place to stay the night with a reasonable rate, checked in, and showered, it was around 9pm. And what I didn't know is that the town pretty much shut-down at 9, when it's off-season (non ski season).  This was going to be a problem, because I was starving!  This town was so desolate, that if I didn't find a place to eat, I would'nt have been able to even get gas station food.  There wasn't a gas station! I just would've been SOL and hungry for the night.
So I stroll into a bar, which seemed to be the only place open past 9. I ask if the kitchen is still open and the barkeep says it just closed.  Once I ask, if there are any other alternatives for food nearby, dude says no…and he could tell that I'd be screwed for the night.
So he talks to the cook in the back.
I couldn't hear what they were saying, but I could see the chef look at me while they were talking and then nod his head.
The barkeep comes back and says, "we can only offer you one dish, if you're interested".  He goes on to explain that it would be roasted duck, on a bed of spanish rice, with braised tomatoes and a sunny-side up egg.
Sounded like a very unique dish to me.  But he said it was only $8 and plus I had no other option.  He coulda said that they had squirrel and bear meat stew and I would've been game (pun intended).  So I order it.
Man!
That dish was amazing! I wish I would've taken a picture and asked more about the indgredients so that I could try to recreate it after the trip.  It was dope how something so good, could be so thrown together.
I was very thankful that the barkeep hooked me up. Because he was the difference in me having and not having food that night.
Telluride itself was a very unique town. When I walked to that bar from my hotel, the town had a very surreal feel to it.  Like in a manucured way.  The best way I can describe it, is that the whole town felt like a movie set.  Like it was created to mimick what the set designer felt a quaint mountain town should feel like.
I learned later that Oprah, Tom Cruise, Jerry Sienfield, among others currently have or had houses here in the past.  I can totally see that a town like Telluride would have such a draw.
Adventure Cycling Across America – Diary Entry #9