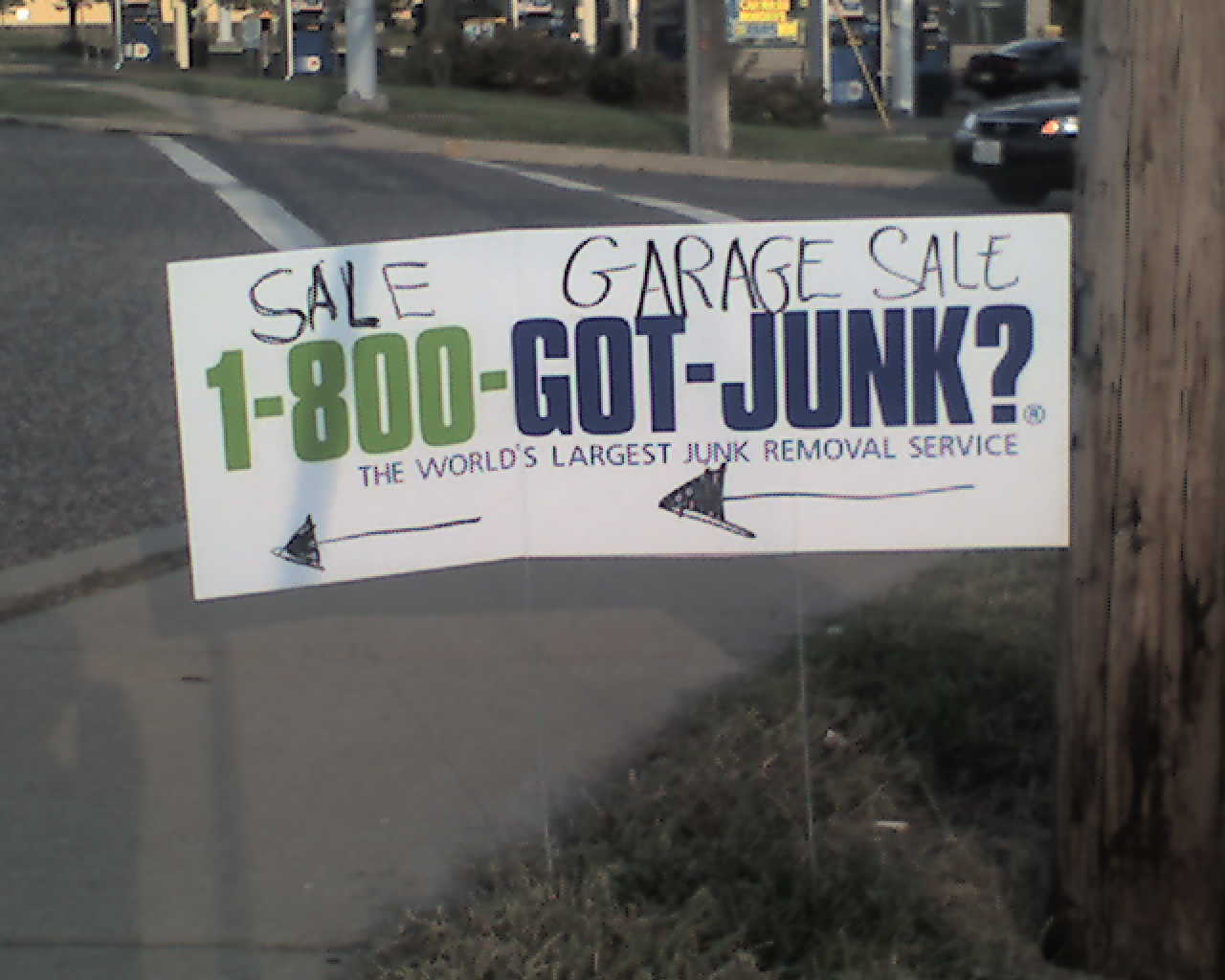 Yo.  I'm back.  First and foremost, check this photo I snapped earlier today.  This sign has been at this one intersection that I pass through on a daily basis, for about a week or so.  I pass by today and I see that it had been hit up with some graffiti.  This cracked me up for some reason.  The epitome of irony, "A vandalized bandit sign".  But hey, I'm not knocking the hustle…I knew which way the Garage Sale was.
This past weekend I attended Shaun McClosky's 4-day short-sale event.  And it was pretty awesome.  I figured that if I could learn at least 1 new tidbit of information, the whole event would be all worth it.  I learned quite a few new tidbits that I will put into action immediately.  And the networking alone was worth the attendance.  I was able to chat with a few other investors and ask specifics about how they get leads, who they use for C-buyer financing, what extras they submit to the lenders, etc. I also learned A LOT about internet marketing…but that's a post for a different day.
Just off of the top of my head, these are the new things I learned about short-sales:
If a homeowner had an FHA loan, they don't have to worry about a deficiency-judgment.  FHA doesn't pursue those
If a homeowner has a "deed in lieu" versus a "short-sale" the difference is a few more years in obtaining another home loan, pertaining to Fannie Mae guidelines
A short-sale doesn't always appear on a credit report
I learned the difference between Chapter 7,11, and 13 bankruptcies
A good point to make in a hardship letter, is that the homeowner's last-resort if the short-sale fails is to file for bankruptcy (if a bankruptcy is filed during a foreclosure, a lender will have to endure a delay due to the bankruptcy before they can proceed with foreclosing. They'd rather not do that)
Submitting a package with a loan-number on every page and a table of contents, will get your file noticed before all others
About a year ago, I attended a 3-day short-sale event, that one was hosted by Nathan Jurewicz.  Back then, short-sales were all new to me.  This time around, the information from the event was much more relevant because I've been working short-sales for almost a year now.  I understood a lot more of what was being talked about.
The event was right on time, because I picked up a new short-sale in St Louis on Saturday.  This was the lease/option deal that didn't work out from a few months before.  I'm going to implement some of the new tips immediately with this house and am feeling quite confident about it.  And to update about the Wells Fargo short-sale that I've been working…things are moving along.  The BPO is to be ordered within the next few business days.  And after speaking with another investor at the event this weekend, I'm thinking about reducing my A-B offer on that deal.  Although, I already have a C buyer in place…I have a gut feeling that the BPO is going to come in below what I offered.  The challenge will be finding the new comps since my first offer to justify the lower offer.  I didn't know that people did this until this weekend.  I'm going to give it a shot.
– Cheerio