Flat Broke? Find a Cheap Accommodation & Still Go To That Conference
In July of 2013, I attended the World Domination Summit in Portland, Oregon. This is a great conference to attend if you are an entrepreneur of any sort and especially if you're an entrepreneur that strives to live life unconventionally.
A few weeks prior to attending I received a speeding ticket in a construction zone doing 30 mph in a 20. This means that I had calculated that the ticket itself would cost around $150 and getting a lawyer to 'fix' it would be $200. So with that $350 out of the door, I felt it was necessary (self-punishment) to subtract that fee from a future luxury expense. The upcoming luxury being a hotel or hostel accommodation at WDS 2013. Such luxury was swapped with a drastically cheap accommodation.
Couchsurf?
One may think that the easiest thing to do is to couchsurf when looking for free/cheap accommodations. This may be true. But couchsurfing can be a bit of a logistic hassle and numbers-game especially at the last moment. In my experience, you need to dedicate some time in advance to find a host in your destination city…that is available to host you…is available to host you and wants to host 'you'…is available to host you and wants to host you and you want to be hosted by them. This all takes many email exchanges and possibly a preliminary in-person meeting to all happen. Ain't nobody got time for that.
That's a lot of effort, when you're not up for it and lack time. So I took an alternative route. I didn't couchsurf, I didn't sleep in a car, I didn't sleep in a park…
I slept in 24 Hour Fitness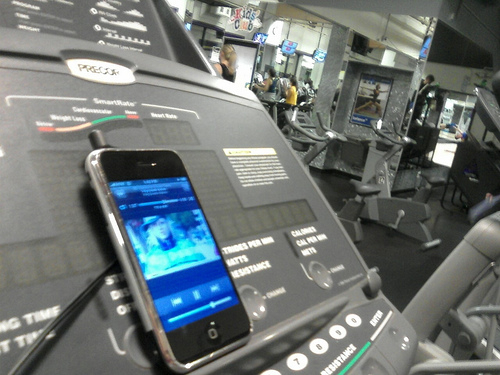 This may seem like an odd choice, but hear me out. For one, they definitely have showering facilities. Two, the majority of them are open 24 hours. Three, if you're not already a member you can sign-up for a free pass or just pay the $15 one-day fee. How's that for a cheap accomodation?
After a day of attending the conference and social events following. I would head over to 24 hour fitness, change clothes, get a light workout in, then stretch, and then make my way to the multiple purpose room (all 24 hour fitness locations have them) grab a yoga mat and grab some Z's.
I will admit that this is probably some of the worst sleep you could ever get. I think I woke up 5 times an hour on average just due to discomfort and anxiety. Unnecessary anxiety really, as I wasn't bothered once during either night of sleeping. Despite this I was only able to piece together about 4 hours of sleep each night.
This first night of the conference, I had a free pass. The second night I paid the $15. And the third night I was offered the floor of another conference goer's hotel room. This is just a great example of the fact that wherever there are barriers, there's always a way around them.
Condition Yourself for Discomfort
One of the reasons that I choose to do this and it wasn't out of necessity, was to condition myself for discomfort.  I train myself for discomfort in a variety of ways, physically and mentally.  I suggest that you do this or something similar. You'll revitalize your creativity, resourcefulness, and tolerance with such an exercise.  Everyone who has ever achieved anything remarkable constantly pushes themselves to become comfortable with being uncomfortable. What's hard gets easy with enough training.

If you like this article, please share it on your Social Media.

[instagram-feed]